"My first" series n°3 : bass concert!
Mar 28, 2005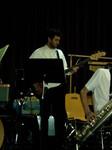 Last sunday I played my very first bass gig with the jazz big band of Montigny les Metz!
The show went great even if few people heard me on the first song, maybe I was too close to my amp, I was getting good level :)
Anyway, my parents took very few pictures and the image is terrible but that's only for me to look back in a few years, when I'll be a great bassist :) Hopefully there'll be more until I move to Grenoble next September!