World's biggest Jenga bridge!
May 14, 2005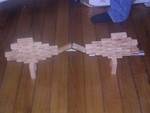 Continuing the "World biggest" series, here's our latest dummy grand project (with my friend Remi Lemoy): a bridge made of Jenga blocks...
The distance between its two bases is 40cm! I'll post here any pics you send me if they are 40cm+ :) Until that, we remain the recordmen (what a shame)!