Building a great team, one bet at a time!
Sep 5, 2007
Jamendo has been hiring for 2 months. It's not yet over, we're still looking for marketing & sales people. However the new development team is quite complete. In order of arrival, we hired Maxime (php/python), Gerald (flash/webdesign), Amandine (junior sysadmin), Pierre-Olivier (php) and just two days ago, Eric (senior sysadmin). The last piece of the puzzle will be Jonathan (php/ajax) mid-september.
That was a lot of people in a very short time but we're already seeing a good team emerge. Okay, maybe not yet so good at fixing the 153 active issues on our bugtracker :) But the one thing we're learning very fast is... Poker!
Today was our second Poker evening and it was a blast, we're slowly all becoming addicted (Try this free ajax poker website...) to the calls, raises and all-ins! No luck (or skill?) for me tonight though, Eric showed us he knows how to bluff and won after 2 hours of fun ;-)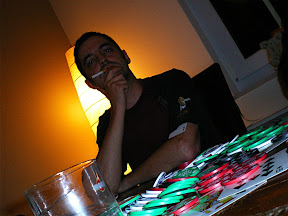 I can't think of a cooler sysadmin ;-)
A few links: Jamendo Poker Tour on picasa / Jonathan's post & photos