Maceo Parker @ Nancy Jazz Pulsations, 2009/10/09
Oct 23, 2009
I lost count but it was my 9th or 10th Maceo concert. Incredible how the energy is still there, plus one of the best sounds I've ever heard at his gigs.
A few videos and pictures I shot during the concert. Sound is bad but you get the emotion :
Maceo solo with drums only
Bruno Speight (guitar) solo
Martha High (vocals) solo
Final medley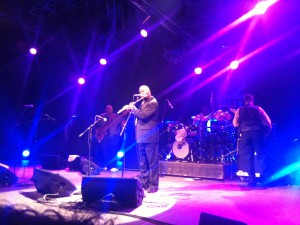 Maceo on the flute
That's it! Maceo returns in Paris April 1st, 2010. This time I'm planning to invite a bunch of friends ;-) We're gonna have a funky good time!