The Headhunters (Nancy, 20-10-07)
Oct 31, 2008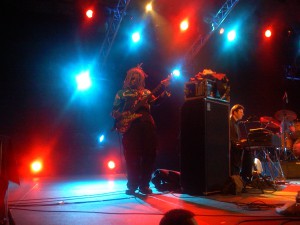 Bassist virtuoso T.M. Stevens with The Headhunters, from where I was standing ;-)
One more concert I'll never forget. Even one year later I still consider it as being the best I've ever been to so far. And I go to a lot of them ;-)
So the setup was like this: Closing concert of Nancy Jazz Pulsations 2007, a festival I've been going to each October for 5 to 6 years. Elaine was in Australia at this time so, as often, I went there with my mom, to thank her again for driving me there in the first place when I hadn't my license yet. But anyway.
First acts were Disfonction, a french powerfunk band, then Sharon Jones and the Dap Kings, which I didn't really like: there was too much talk and show, not enough funk. Then Fred Wesley and his band which I had seen a few days before in Grenoble. I could follow these guys for weeks, really ;-)
And then... Then! They came on stage. They being original Headhunters Mike Clarke (drums) and Bill Summers (percussion), Mark Shim on saxophone, Jerry Z on keyboards (taking the place of legend Herbie Hancock!) and last but not least, the great T.M. Stevens on bass guitar.
In order to bring everybody up to date, The Headhunders is a legendary band created by Herbie Hancock in the 70s, authors of jazz-funk-fusion hits like Chameleon, Watermelon Man, and others.
So they were there, 40m from me (we sat during the break), I must say I hadn't big expectations and wasn't a hardcore fan before they started playing. So it wasn't a celebrity crush or something, I think it's really, really about the music. Anyway, they began playing and soon I was wondering "Fuck, is this an UFO or a bassist?". So I rushed to the front row to see check them out closer, in front of the bassist of course.
And man I wasn't dissapointed. What followed was 1h30 of pure extasy, or an uninterrupted series of musical orgasms if you will.
This a glimpse of the madness, maybe the worst youtube video you can find, with poor image and even unsynced audio, but you may get the point :
So, T.M. Stevens is a crazy person. Well, at least a crazy bassist, but I suspect he also may be a bit different from us because you can't just do that kind of bass playing if you're a regular guy. Of course I hope to be able to funk like that some day but let's get real, it's a way of life. Just look at the man: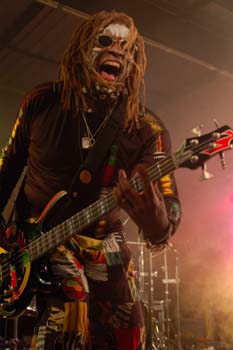 I like the fact that he is crazy, actually. That's how funk should be. As he said to one of the members of his forum:
Hannah, just keep on playing that bass, then one day it will start playing you, and that's when the magic happens..
Well, I like that very much. At this level, you don't play funk. Funk plays you. (Russian Reversal ?)
I think that's part of what I want to accomplish in my life. Be inhabited by such craziness and happiness while playing. Share it to others. And it may sound lame but going to this concert and realizing this may well change how I want to spend the rest of my days down there.
Isn't that a mind-blowing concert ? ;)
Anyway, besides that bassist, every member of the band was awesome. Mark Shim delivered consistently good sax solos, generally quite good funk, more fusion/experimental in Sly which I highly appreciated given the general feeling of that song. Saxophone was my first instrument so I'm always loaded with really high expectations but I couldn't help recognizing he had succeeded in this difficult challenge of musicianship.
Another one who faced quite a challenge was of course pianist Jerry Z from New York, who was replacing Herbie Hancock for this tour. Well, he pulled it off. Excellent support for the rest of the band, impressive solist, seemed to have a lot of fun, I had rarely seen such a mastership of the Rhodes.
Then of course old men Mike Clarke and Bill Summers with his legendary introduction to Watermelon Man. I knew the song before seeing them live but I didn't know that he actually uses a real glass bottle to play the intro. Video of that below :
So back to the band, I recently bought the live CD of this tour which I highly recommend. Yes that's right I bought a physical CD, I did this maybe twice in my life and it might well be the last but it was worth every penny. I'd say the energy of the show I saw is 90% there, which is better than most live recordings you can get.
I'll see you Headhunters in your next tour, that's for sure! T.M. Stevens might not join them again, he was really stealing the show at some points - to my great pleasure - but they may want to go back to something closer to the original Headhunters, I don't know. It will just make this concert even more unique ;)
So that's it, a big blog post for my best concert yet, and a last poorly recorded video to finish in music: