Announcing the dotConferences Hosts program
Sep 9, 2015
Making conferences more inclusive and diverse is a big challenge in the tech community. It is a complex issue that needs to be tackled from many sides.
dotConferences already has two initiatives, the Fellows and the Ambassadors, that help bring more attendees from different backgrounds. Today we are very excited to announce a third one to improve the social experience at our events!
As a first-time attendee, it can be hard to make friends and have interesting discussions at large tech conferences with hundreds of strangers. So we are taking yet another page from the TED book and introducing our own Hosts program.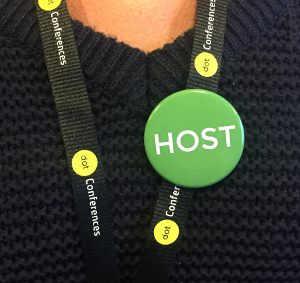 The Hosts are a team of veteran members of the community whose job in the breaks is to actively look for people looking lonely, initiate a conversation and introduce them to the first few attendees they might have common interests with. They will wear a special badge so people can also engage them directly.
This has already been happening a lot at our events. I'm thinking of connector-extraordinaires like Ori, Sam or Christophe. So we are making it official with a special badge for Hosts and a public call for anybody who enjoys adding edges to social graphs by connecting strangers together!
We are trying this for the first time at dotGo on Nov 9, so drop us an email if you want to become a Host, or get your ticket if you just want to enjoy a day of great talks and make lots of new friends ;-)